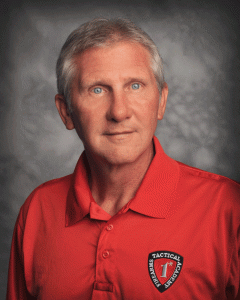 Dave Sanders is currently the Law Enforcement Program Coordinator for Broward College Institute for Public Safety.
Law Enforcement Experience
Dave has 34 Years of law enforcement experience starting with 6 years as a Pennsylvania Police Officer in Patrol and Special Operations and then 28 Years with the Ft Lauderdale Police Dept. including assignments in patrol, K-9 (Instructor certified), Tactical Operations Unit,  Detective / Criminal Investigations Division assigned to FBI Violent Crimes / Fugitive Task Force, Detective in Special Investigations Division, Metropolitan Organized Crime Task Force, DEA Task Force, FLPD Street Crimes Unit and the FLPD Training Unit as Primary Firearms and Tactics Instructor. Dave also spent 23 years as a member of the SWAT team and was a Tactical Instructor, Sniper Team Leader and Sniper Instructor.
Firearms Instructor Certification
FDLE Law Enforcement Firearms / Tactical Instructor
 NRA Law Enforcement – Tactical pistol, shotgun, rifle and select fire weapons
Sig Arms Tactical Shotgun Instructor
FLETC (Federal Law Enforcement Training Center)
Multiple Weapons Instructor, pistol, shotgun, rifle, scoped rifle, sub gun
Florida SWAT Association Advanced Sniper School
FBI Sniper Course
NRA Training Counselor
Instructor Responsibilities
Ft. Lauderdale Police Department
Firearms and Tactical Training
SWAT Entry Team and Sniper Team Training
Broward Police Academy
Adjunct Instructor, Firearms, Emergency Vehicle Operations and First Aid
Former Florida SWAT Association Southeast Region Representative and cadre instructor